Reviews
Please see these wonderful reviews:
Awards
BRIDES Magazine voted Triple Twist Best Bridal Studio in San Francisco.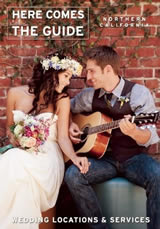 Triple Twist is Certified by Here Comes the Guide, California's most popular wedding planning resource, and was exclusively featured in the their print edition book for five years. Unlike many review sites, HCTG has a rigorous certification process requires each vendor to submit 30-40 references, including wedding industry professionals and at least 15 recent brides. They then contact each bride and get their honest feedback. Only if the company gets a rave review will they accept a wedding vendor as a client.
What are real brides saying about Triple Twist?
"I loved that Mei had strong capabilities in both hair and makeup and that I didn't have to sacrifice on either to receive both services from the same professional."
"My makeup lasted through the tears, kissing, and dancing. My hair stayed curled the entire night—something it usually doesn't do!"
"My makeup was exquisite, unlike anything I have ever done or had done for myself. Flawless, glowing, and natural."
"I really appreciated having the photographs taken after the trial and being able to see how the makeup would look in the pictures."
Featured on The Knot
Triple Twist is featured in the wedding makeup and bridal hair sections on The Knot, the largest wedding planning resource in the United States and was featured for a commercial on The Knot's — the video featured top wedding vendors in California and was broadcast to over 100,000 brides.
Yelp Loves Us!
We have a solid 5-star rating on Yelp!
Check Availability
Check availability to learn about our pricing and packages.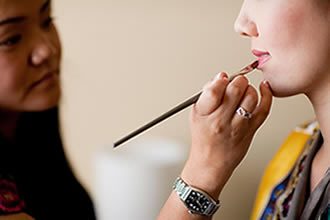 Professional Artistry
Mei is an Emmy Award-winning, former Cirque du Soleil star artist who now focuses exclusively on beauty makeup and precision hair designs. With over 20 years of experience, you are in the best hands on the biggest day of your life.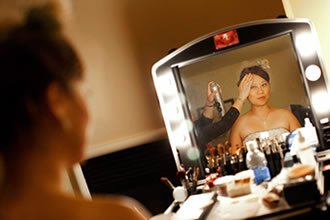 Luxury On-Location
We arrive with a chic Italian makeup table and director chairs to provide the most comfortable setting for your special day. Photographers love the amazing lighted backdrop for your pre-ceremony shots.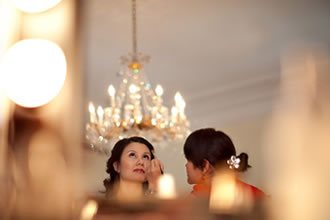 In-Studio Bridal Trials
Our one-on-one bridal trial is designed to make you feel your absolute best in a peaceful, stress-free atmosphere in our Union Square bridal studio. Discuss your vision and goals with Mei for a natural, beautiful look.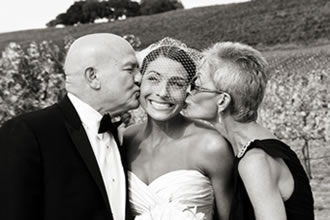 Contact Us
Feel free to contact us or call at 888-865-6960.
Social