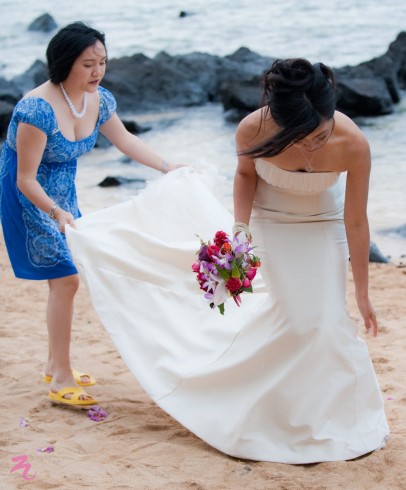 Destination Wedding in Hawaii
I traveled to Kauai, Hawaii in March 2009 for a wedding on a secluded beach. I was booked for the entire day for touch-up services, which ended up being a great move – beaches are windy! Right after the ceremony there was short, light rain that passed (it was so romantic)! I was able to adjust the bride's hair and do quick touch-ups between the rain, wind and sun.
The Advantage
Because I am experienced with both hair and makeup, only one person is needed on your wedding day for these personal services.
I'm proud to say that my services are not limited to just makeup and hair design. When you choose my day packages and touch-up services, you are getting a personal beauty designer for the entire day. I am aware of the surroundings and the photographer, and I make quick in-and-out adjustments to your hair and makeup so you stay looking your best.
Touch-up services are a luxury you will not regret.  Contact me here to schedule services for your destination wedding or beach wedding.