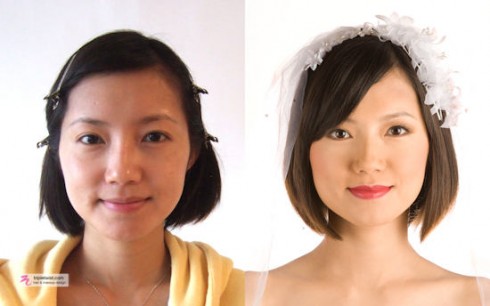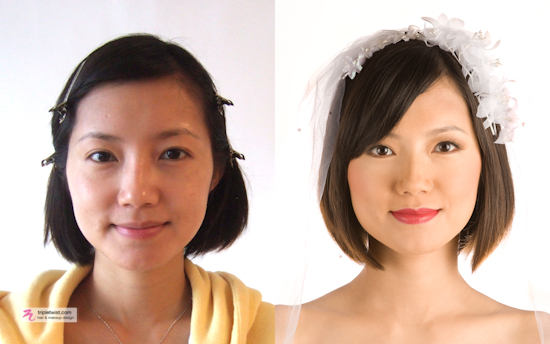 We are often asked "I'm looking for a hair stylist and makeup artist who specializes in Asian brides, do you do makeup and hair for Asian brides?"
See real Asian brides we have recently worked with »
The short answer is yes, we have a lot of experience working with Asian women for their tea ceremonies and weddings. We have a large portfolio of before and after photos showcasing many different types of Asian skin tones, eye shadows for Asian women, lips, hair styles, and more. You can also view a before-and-after video showcasing an Asian bride at her trial.
Chinese-speaking brides have told me they love that fact that my studio manager and I both speak fluent Mandarin Chinese, which often times is helpful for mothers and relatives who speak Chinese as their primary language.
However, not everyone is having their wedding in San Francisco Bay Area, so I thought I'd put together an outline for people who are looking for specific answers.
First of all, it is a completely valid question, so do not feel awkward asking your makeup artist or hair stylist if they specialize in weddings for Asian brides, or if they work specific ethnicities or skin tones. There are special techniques for Asian eyes and eyelids, and Asian hair.
So how do you find an artist to fit your needs? Simple! Look for someone who can answer all your questions and back up their work with a large portfolio. Ask them specific questions about your needs, and ask if they have any experience with those issues.
I feel honored to have such great feedback for my work with the Asian bridal community in San Francisco, and if you have a question or concern about your hair and makeup for your wedding (regardless of who you choose for your hair and makeup for your wedding) feel free to contact us at 888-865-8660.