Janelle and her family were awesome, we look forward to seeing you at your wedding, and we love the look you chose!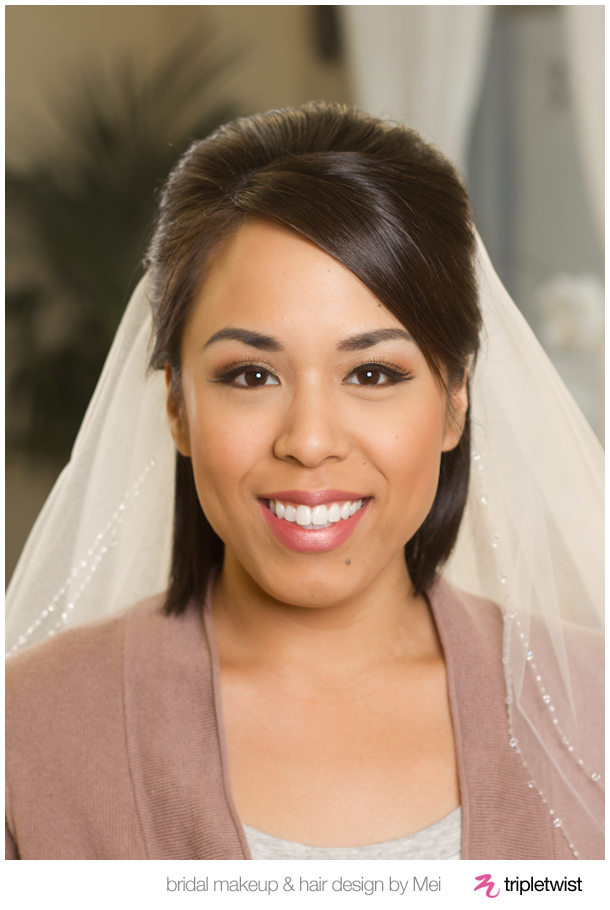 Via Yelp:
Thanks to you Yelpers who helped me make the decision to go with Triple Twist for my bridal hair and makeup! After reading the reviews and checking out their website, I was positive that I would get the look I wanted. While the services are not cheap, I found them comparable to others in SF…and their website looked the most professional ;)

My initial contact was with Robert, who is so kind and professional and was patient enough to do a back and forth with me regarding scheduling, prices, and services provided for myself, my MOH and another BM. Since I live out-of-state and would not be back until a couple days before my wedding, we had to schedule my trial for the 28th of October (my wedding was on the 30th). A little risky yes, but I was confident in the services so I paid for both the trial and the day of at the same time.

My trial with Mei was fantastic. Her studio is in the lovely James Flood building, right next to Anthropologie :) It was cute, clean, and comfortable. Mei is very meticulous with her work; she color-matched the foundation to my skin perfectly and naturally and was able to conceal my stubborn dark under-eye circles. AND she applied individual false lashes for a look that was both lush and dramatic but still appropriate for my 11:00 am wedding.

Since my hair is already pretty short, I had a simple half up "poof" in mind, with my veil tucked in the back. She did this quickly and expertly, but since my hair is short she could not hide the bobby pins in the back and suggested getting some flat white flowers like orchids to cover them up. My family was there with me so they agreed to pick up some flowers to put in my hair for the day of.

We had a very early start the day of; Mei and Robert were prompt and came to set up in my hotel suite at the Hilton Financial District a little before 6am. One of my BMs would get her hair done first, then I would get my hair and makeup done, and then my MOH would get her hair and makeup done. When it was my turn, I was totally at ease and watched the sunrise with our great view of the bay and Coit Tower. She replicated my trial look perfectly.

When it came to my hair, it turned out that my mom had purchased huge orchids that would not layer well on my hair. After some deliberation, Mei called Robert and asked him to pick up a smaller plant that would look more elegant. This is what really impressed me; they went above and beyond to make sure I looked my best. Robert came back just in time with the flowers and Mei had them in my hair perfectly in no time.

Also, Mei was still working on my MOH as i left to take pics with the hubby, but her hair and makeup was also so gorgeous; she looked like a star!

I know this was a super lengthy review but I wanted to give the services that Triple Twist provides justice. I would recommend this business to anyone in a heartbeat and am so glad I decided to go with them. Thank you Mei and Robert for being so fabulous and for making look and feel fabulous on my special day :)

P.S. Check out my trial photo on their blog!