Certified by The Guide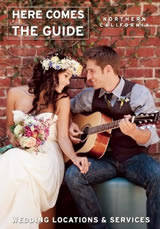 Triple Twist is certified by Here Comes the Guide – California's most popular wedding planning resource – and is exclusively featured in the the book.
How does HCTG differ from other wedding sites?
Unlike many review sites, HCTG has a rigorous certification process requires each vendor to submit 30-40 references, including wedding industry professionals and at least 15 recent brides. They then contact each bride and get their honest feedback. Only if the company gets a rave review will they accept a wedding vendor as a client.
What are real brides saying about Triple Twist?
"I loved that Mei had strong capabilities in both hair and makeup and that I didn't have to sacrifice on either to receive both services from the same professional."
"My makeup lasted through the tears, kissing, and dancing. My hair stayed curled the entire night—something it usually doesn't do!"
"My makeup was exquisite, unlike anything I have ever done or had done for myself. Flawless, glowing, and natural."
"I really appreciated having the photographs taken after the trial and being able to see how the makeup would look in the pictures."
Interested in coming in for a trial? Contact us now